IUBAT offers a number of features for the learners who are seeking admission for higher studies. Some of those features are as follows:
A good number of scholarships for the qualified students.
Free Transport, Modern Living Course, Indoor and Outdoor Games, Sports, Wifi, Open  Study Arena, Technical Training Courses, English Learning Center.
Teaching Assistance, Consultation, Debating Forum, Grooming, Initiation Program, Orientation, Online Course Offering.
Information on degrees, requirements, policies
Key academic dates, deadlines and requirements
All applicants must qualify in the admission test to be eligible for admission
The title of programs, duration, credit hours and fees
Contract With the University
If you pass the admission test, you will find your result in the university notice board and in the university web site (www.iubat.edu) then you will have to complete all the formalities of admission.
Dress and Behavior Code
IUBAT has adopted a dress and behavior code for the students as well as personnel during their presence in the university campus to ensure personal development of each member and to enforce cleanliness, regularity and discipline in the campus.
IUBAT promotes an environment of learning and as such the personnel should refrain from talking loudly, behaving impolitely with others  and smoking or eating in the office room, office or the library. The adoption of dress and behavior code is a way of creating an atmosphere which is conducive to grooming of students with the assistance of university personnel.
Grooming
The University mission of developing human resources calls for holistic development of the students and this is achieved through the combination of the academic and extra academic activities, providing opportunity to develop themselves and grooming for an independent professional career. All programs are organized and conducted by students in order to grow organizing skills and leadership qualities. To develop professional grooming of the students, the university offers a course on Grooming which is mandatory non-credit course for all students and passing this course is a requirement for graduation from the university. Over the years this tradition of grooming has taken firm route in the university culture and considered as a process of personal development as well as recognition within the university community.
Your Adviser
The University including its nearby areas is a new environment for you. At the beginning of your study, it may be challenging to you to cope up with a new environment and at the same time to do good in terms of study. The university understands those challenges and to help overcome those we appoint an adviser for you. The adviser is also a teacher in the department you will enroll. He/she will listen to your problem and guide you to face the challenges.  As a new student you must consult your adviser with every problem and challenge you face throughout the whole academic life in IUBAT.
Transcript
An academic transcript is an official record of all your academic performances.  You can download your academic transcript whenever you need. To get an official transcript signed by the appropriate authority, you have to apply to the Registrar.
Course Intake
You can enroll, add and or drop a course by online services from any corner of the globe. In case of drop and add, you must consult your department. After the deadline is over, no service will be provided in this regard. So always follow the deadline
Payment Detail
You can learn about the payment you are supposed to deposit, your dues and other transaction details. Pay the dues in time. In case of any difficulty contact the concerned office prior to the deadline.
Results
You can access your result of each semester on 27 th of April/August/December.  In case of first term and midterm, you will get your result as per schedule.  We value your time, so we publish your result as per schedule without any exception. You can get your result by accessing your own account by visiting www.iubat.edu.
CIS
Students can play a great role in ensuring quality teaching by providing their valuable comments on teachers' performance and the appropriateness of the course. Honest and authentic feedback from the students provides deep insights to the respective teachers' performance. From students' evaluation a teacher may know about his strengths and weaknesses. It is often told that a good teacher can cultivate good students; while a group of good students can also enhance the quality of teaching by participating in a class actively and by providing constructive evaluation of teachers' performance.
IUBAT values the comments of its students and introduces the required changes   to ensure a liberal, interactive and effective teaching-learning environment. You should carefully fill in the Course Instructor Survey (CIS) form to provide effective feedback to faculty that will help him/her improve teaching, course content and structure etc.
Verifying Your Degrees
Employers may wish to verify your degree, certificate, academic transcript and other documents directly from the university.
Study Guidance
Appropriate guidance makes us able to accomplish any task in a more appropriate way. There are a number of platforms where you can get suggestions on time management, examination skills, stress management, knowledge creation, research, use of available resources, studying abroad etc.
Examinations and Assessment
It is easier to score better when you are aware of pros and cons of examinations and assessment types. From the very first day, in each course, students get familiar with the syllabus, examination types and assessment processes in detail and it continues in each stage of your academic life at IUBAT. The course instructors provide course outlines for each course where students find examination and assessment detail including course schedule, course description, course syllabus, objectives and expected outcomes. Student should carefully go through all the information covered in course outline.
Complaints and Academic Appeals
There are scopes to make complaints against any disturbance or abnormal behavior you face during your studies at IUBAT. A number of people and committees are there to guide you, and solve your complaints. Examination, teaching, conduct of student and staff related issues are to be reported to the appropriate authority-the Registrar. Complaints must not be directly submitted to the Registrar unless it is a serious one. Before you submit any written complaint, you must discuss your teachers, advisers, head of department, Chairs and Dean . They can suggest and guide you what to do in a certain situation.
If you struggle to adjust with the teaching style of a teacher, first you must discuss frankly with that teacher. Here, teachers are committed to solve any of your academic problems. There is a controller of examination to solve your  appeals related to examination. But remember, you must appeal no later than 7 days after the publication of result.  Proctor's office receives and investigates complaints against students and staffs' conduct. Any inappropriate behavior by any staff or student should be reported immediately.
Funding and Financial Aid
Study Abroad
IUBAT has collaboration with 91 foreign universities where our students get the opportunity to pursue undergraduate and postgraduate degrees. Many are already studying in South Asian, American, European, Australian universities. Besides, the students get internships in different countries through the placement office. Alumni office also guides students in searching opportunities for higher studies at all levels.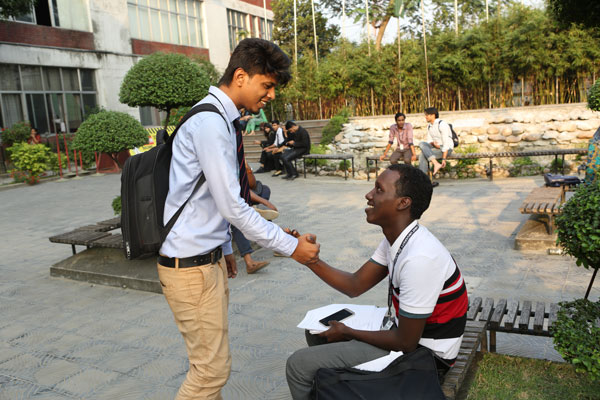 Being an international university, IUBAT fosters an environment where international students can flourish equally like the domestic students. The university persistently helps the foreign students overcome the cultural barriers and appreciates cultural diversity.   A good number of students are studying here from different countries like Somalia, Nigeria and Nepal. The university also encourages students from around the world to join the university community.
In addition to the standard university support services, the International Student Services Department offers a variety of unique services and resources to international students throughout their studies for optimum student success.
Services offered include:
Pre-Arrival Advising
New Student Orientation
Student Life Advising: Housing, Transportation, Banking, Health Insurance, Cultural Adjustment
Guidance on Academic Matters
Organizing Sports Tournament
Organizing  Tour across Bangladesh
International Programs Office (IPO) provides international students with immigration advising for maintaining their legal status and to contribute to the success of their educational goals while in Bangladesh. At the International Programs Office, students can obtain information regarding their immigration status, including:
Visa Submission
Visa Renewal and Extension
Police Investigation
Visa Collection
Clubs and Societies
The university prioritizes the importance of clubs and societies of students and gives much prominence in the overall strategic planning and policies of the university. IUBAT presently has eleven societies organized by the students with faculty anchor and these societies carry out various academic and extracurricular activities and have individual structure along with distinctive objectives.
Skills and Work Experience
The university has designed its curriculum to boost up your skills that increase your employability in the job market. There are a number of courses that give you practical experience of dealing with real life like tasks that you will be supposed to accomplish in your working organization. You can have work experience here as part time staffs in different sectors. Internal internship placement can also provide you golden opportunity to work here.  Students, here, can achieve experience of teaching by working as a Teaching Assistant.
Student Management
Your interaction with the university community and active participation in different activities provide you solid experience; thus, you can boost up your confidence.  Students are encouraged to engage themselves in different occasions like orientation, various festivals, and inter and intra university competitions. You can work as a student ambassador to guide your juniors. IUBAT offers a number of community services as well where you can work as a volunteer.
Housing and Living Arrangements
IUBAT arranges individual or group accommodation for students near the university under secured and supervised conditions. There are separate male and female housing organized by the university within walking distance. Living expenses vary depending on individual needs and life styles. The present economical monthly rental is Tk. 6000/- (six thousand) each for twin sharing and Tk. 3500/- (three thousand five hundred) each for three persons sharing a room for local students. Local students can make booking for accommodation by contacting the Admissions Office.
IUBAT has free bus services for students covering the main city points as well as Mirpur, Mothijheel, New Market, Mohammadpur, Badda, Gazipur, Savar, Pubail,Kaligonj,Tongi, Boardbazar and Uttara which enable students living in their parental homes or renting at considerable distance for cheaper accommodation to attend the university programs.
For international students, the rent for single accommodation is approximately US$60 per month, US$85 for standard and US$160 for deluxe. International students can make booking for accommodation in individual or group housing by registering with the International Office. International students presently studying at IUBAT are already comfortably settled in private housing near the university.
Medical Treatment
In case of medical emergency, the university policy of health insurance facilitates your medical treatment. If you have such emergency, you can apply for financial aid.
Harassment
The university strictly monitors the conduct of all its members including teachers, students and staffs. None of its member is allowed to act in a way that violates the code of conduct. Any violation of code of conduct in any form is completely unacceptable. If you face such conduct that disturbs you or destroys your privacy and self dignity, you must report it to the Proctor's Office immediately. You can also share your concerns with your department head and chair.
Counselling
IUBAT is one of the leading universities in Bangladesh considering the facility of providing mental health support to its community (students, faculties and staffs). This service is being provided through Professor Mahmuda Khanum Counseling and Guidance Center to address the mental health issues and to ensure the psychological well-being of IUBAT community. This center is located in room no 105. Service is provided from Sunday to Thursday (8.30 am to 5.00 pm). Students, faculties and staffs of IUBAT can avail this service at free of cost.
Moreover, confidentiality of clients' identity and information is highly maintained throughout the whole therapeutic process. A clinical psychologist is currently running this mental health facility. Service of this center includes psychological assessment, individual therapy, and appropriate referral to other mental health professionals and crisis management which is psychological in nature. In addition, this center organizes workshops and seminars on different mental health issues. More..
To overcome the academic challenges, IUBAT provides effective resources to its students. Each college has a good number of resources that they offer to facilitate efficient and effective learning. The resources cover huge stock of academic textbooks in the library, research journals, access to digital libraries, online connectivity, highly useful laboratories, research fields, CDs and DVDs, practicum reports, theses, well designed and decorated classrooms equipped with modern technologies, etc.
The university also provides human resources to students to guide and supervise learning. Besides class teaching, teachers are supposed to solve students' problem in consultation hours where there is a one to one interaction between teacher and student. Any student can seek help from the teachers outside the class; both by taking a prior appointment or without any appointment. The authority strictly ensures that teachers are available in their respective room during the declared consultation hours. Moreover, students can discuss their academic challenges with the Teaching Assistants. There are assigned Teaching Assistants from each department to serve the students who struggle to cope up with the academic challenges.