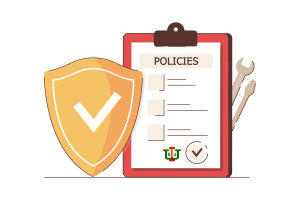 Welcome to the IUBAT website for University Policies, the official repository for policies applicable to members of the University community.
IUBAT Policy on Policies offers guidance on the creation, review, revision, approval, and publication of policies at IUBAT. If you are engaged in developing new or revised policies, kindly reach out to policy@iubat.edu for additional details on the process and assistance with any inquiries you may have.
SMOKING POLICY
PURPOSE
The concern regarding the health implications of smoking within University buildings necessitates the implementation of regulations governing smoking on the University campus.
SCOPE
This policy is relevant to every student, faculty member, senior administrative officer, non-faculty employee, guests, and other authorized individuals present on the property owned, leased, managed, or operated by IUBAT or any of its components, including departments, offices, centers, or similar entities.
POLICY
Smoking is strictly forbidden within all University buildings. Smoking, as defined, encompasses the use or possession of any lit tobacco product, including e-cigarettes and associated devices, vapors, and other smoking paraphernalia.
Furthermore, smoking outdoors is prohibited within a 20-feet radius of any campus building unless otherwise specified. Whenever feasible, ash urns and designated smoking areas should be positioned beyond the 20-foot perimeter of campus area. No facilities or areas shall be approved or designated within 20 feet of any entrance, outdoor air intake, or operable window.
ENFORCEMENT
Any violation of this policy by a University student is subject to the Student Code of Conduct in the student handbook. For employees, violations on the smoking policy may result in disciplinary action according the IUBAT Disciplinary Policies. Guests who violate the policy may be asked to leave and may be subject to Smoking and Tobacco Products Usage (Control) (Amendment) Act 2013.
Violations of law may also be referred for criminal or civil prosecution.
REVIEW
This policy is to be reviewed every Five (5) years, or more frequently as needed based on changes to federal, state, local, system, or University changes.
CONTACT
This policy is administered by the Office of the Vice Chancellor.
RESPONSIBLE EXECUTIVES:
Proctor of the university.
SUPPORTING DOCUMENTS
Smoking and Tobacco Products Usage (Control) (Amendment) Act 2013
REVISIONS
| | |
| --- | --- |
| Revision Date | Revision Summary |
| 31/08/2017 | Reviewed by Vice Chancellor and Executive Staff |
| 10/04/2023 | Non-substantive edits completed after reviewed by Responsible Executives and Responsible Administrators |