World Tourism Day 2023
Categories

News

Date

October 8, 2023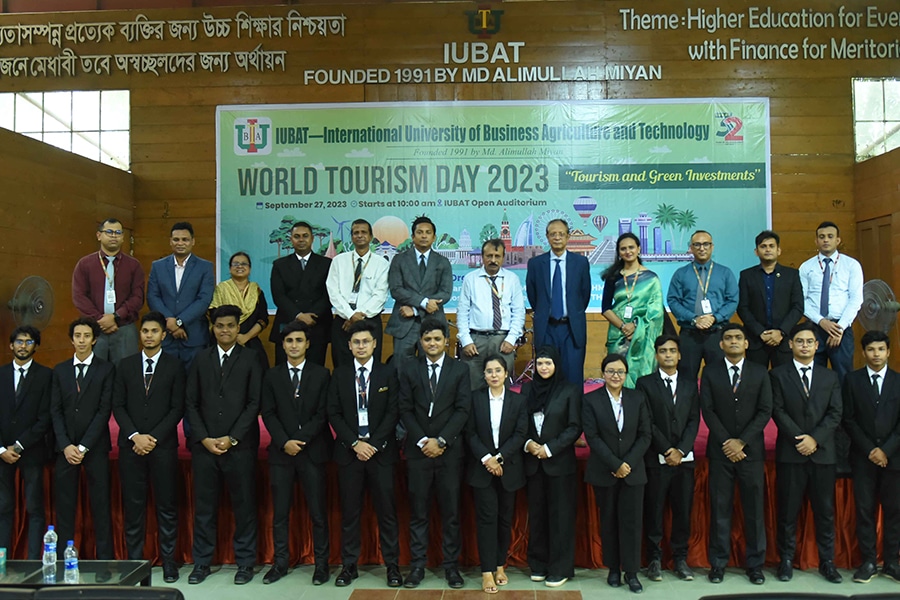 The College of Tourism and Hospitality Management at IUBAT held an academic discussion on "Tourism and Green Investment" in honor of World Tourism Day in 2023. The Ceremony was divided into three parts which were: Participation in the Rally, Formal program with discussion and Cultural celebration.
In the formal part, the discussion emphasized the current situation of the tourism industry and the possibilities of investing in green tourism. Academicians, researchers, and hotel entrepreneurs delivered their thoughts on the discussion. MD. Al Amin, Hotel Manager, Renaissance Dhaka, and Wg. Cdr. ATM Nazrul Islam Ph.D., psc (Retd) Prominent academician Pro Vice-Chancellor Prof. Dr Mohammad Mahmudur Rahman (IUBAT).
The discussion came to an end with some recommendations for tourism sustainability. They mentioned steps that we can take to address the emerging investment needs of the tourism sector vis-à-vis education. A few strategies for accelerating climate innovation were also discussed, including how to invest in new business models, technology, and practices to support the creation of fresh approaches to the climate crisis. The panelists went over the need for improved coordination between the public and private sectors, the importance of conducting personal risk assessments for both travel and personal safety, the need for an international framework for coordination that allows for safe movement, the need to offer employees special assistance, and the importance of making significant improvements to tourism education and training.
In order to better support the successful implementation of tourism planning and the Sustainable Development Goals, the overall disruption in the tourism sector caused by COVID-19 presents an opportunity to redefine and recalibrate the direction and narratives of tourism investments. One of the top priorities for the recovery, future expansion, and development of tourism, according to UNWTO, is investment. The UNWTO emphasizes the need for bigger and more precisely targeted investments for people, the earth, and prosperity on World Tourism Day 2023. Instead of only making conventional investments that promote economic growth and productivity, new and innovative approaches are now required. World Tourism Day, celebrated each year on 27 September, is the global observance day fostering awareness of tourism's social, cultural, political, and economic value and the contribution the sector can make towards reaching the Sustainable Development Goals.
The International Day of Tourism will draw attention to how important it is to provide funding for initiatives that benefit people (by investing in education and skills), the planet (by investing in sustainable infrastructure and accelerating the green transformation), and prosperity (by investing in innovation, technology, and entrepreneurship).
Whole the ceremony was held at the IUBAT open auditorium. With the graceful presence of all guests, president of the ceremony, CTHM chair, coordinator, faculty members, and students of CTHM, it has achieved a successful program honor.