94th Orientation Program Fall 2023
Categories

News

Date

October 8, 2023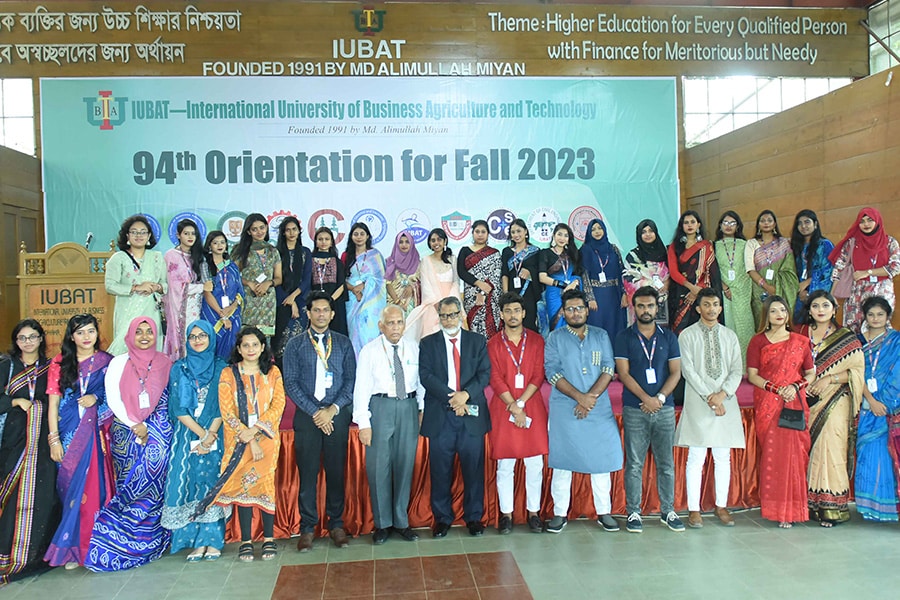 The 94th orientation of new students of fall Semester 2023, International University of Business Agriculture and Technology (IUBAT) was held on Saturday 30 September – 02 October 2023 at the permanent campus of the University to welcome the fresher's students of the College of Business Administration (CBA) BBA and MBA program, Department of Civil Engineering, Department of Computer Science and Engineering, Department of Electrical and Electronics Engineering, Department of Mechanical Engineering under the College of Engineering and Technology (CEAT), College of Tourism and Hospitality Management (CTHM) , College of Agricultural Science (CAS), Department of English and Modern Languages and College of Nursing. The new students from all over the country of indifferent disciplines joined the orientation with enthusiasm and exuberance.
Vice-Chancellor Professor Dr Abdur Rab, Presided over the program. He said that IUBAT fulfills the need of massive manpower development to ensure quality in higher education for facilitating the socio-economic growth and development.
Speakers on the occasion highlighted the excellence of IUBAT and added that the focal point of modern higher education in the contemporary world is mostly demand based. Universities have to educate the tertiary students in accordance with the latest modules, curricula and methodology with excellent teaching and guidance to ensure better grooming. Professional development will help the new graduates to move ahead with global changes. They, however, felt that all development has to accompany patriotism based on home based cultural roots to meet the challenges at home and abroad.
Pro Vice Chancellor, Treasurer, Deans, Exam Controller, Directors, Coordinators, Faculty Members, Officers, Staffs and Students were present at the 94th Orientation program. Orientation was followed by cultural gala.