National Seminar on Food Security and Ecosystem Management held at IUBAT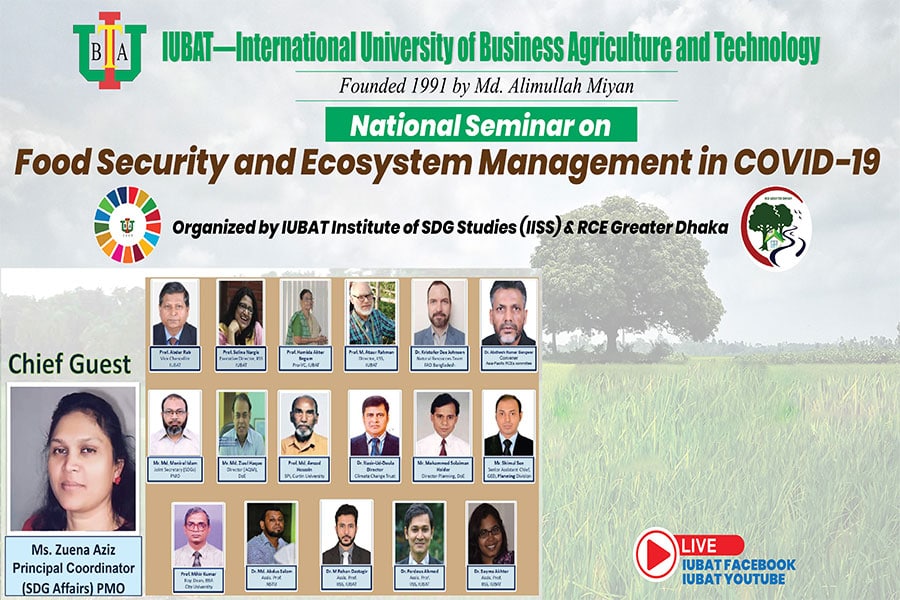 IUBAT Institute of SDG Studies (IISS) and RCE Greater Dhaka organized a National Seminar on Food Security and Ecosystem Management in COVID-19 on November 19.
Ms. Zuena Aziz, Principal Coordinator (SDGs) of Prime Minister's Office, participated in the seminar as Chief Guest while Dr. Kristofer Johnson, Team Leader of NRM, Food & Agricultural Organization (FAO) as Special Guest and Dr. Abdhesh Kumar Gangwar, Convener, Asia-Pacific RCEs Coordinating committee as Guest of Honor.
Prof Dr. Abdur Rab, Vice-Chancellor of IUBAT presided over the virtual program.
The seminar was welcomed by Prof. Selina Nargis, IUBAT Treasurer and Chairperson of RCE Greater Dhaka; Keynote Speech delivered by Prof. Dr. M. Ataur Rahman, Coordinator, RCE Greater Dhaka & Director, IISS.
Prof. Dr. Hamida Akter Begum Pro-Vice-Chancellor IUBAT, Md. Monirul Islam, Joint Secretary (SDGs), Prime Minister's Office; Md. Ziaul Haque, Director, Department of Environment (DoE); Dr. Md. Nasir Ud Daula, Director, Bangladesh Climate Change Trust; Shimul Sen Senior Assistant Chief, Planning Commission; Prof. Dr. Amzad Hossain, Curtin University, Australia; Dr. M. Rehan Dastagir, Deputy Director, IISS; Professor Dr. Mihir Kumar Roy, Dean, Faculty of Business Administration, City University; Dr. Ferdous Ahmed, Assistant Director, IISS and Dr. Sayma Akter, Assistant Professor, IISS, IUBAT delivered their speech on this E-Seminar.
During the seminar, guests discussed in detail the management of food security during the Pandemic and said that food security is very important in our lives. Guests also said that Covid-19 should be aware of food and nutrition security in post-Bangladesh. In order to sustain this success in agriculture, action plans need to be taken to meet the food and nutrition needs of the growing population, including implementing the challenges and achieving the Sustainable Development Goals by 2030. This is especially true in the post-COVID and post-epidemic period. In sustainable agriculture, there is a need to strengthen coordination between farming and other social, economic, and environmental aspects. Sustainable agriculture needs to be planned and implemented in such a way that it is resource-efficient, socially conducive, commercially competitive, and environmentally friendly.