IUBAT holds National Collegiate Programming Contest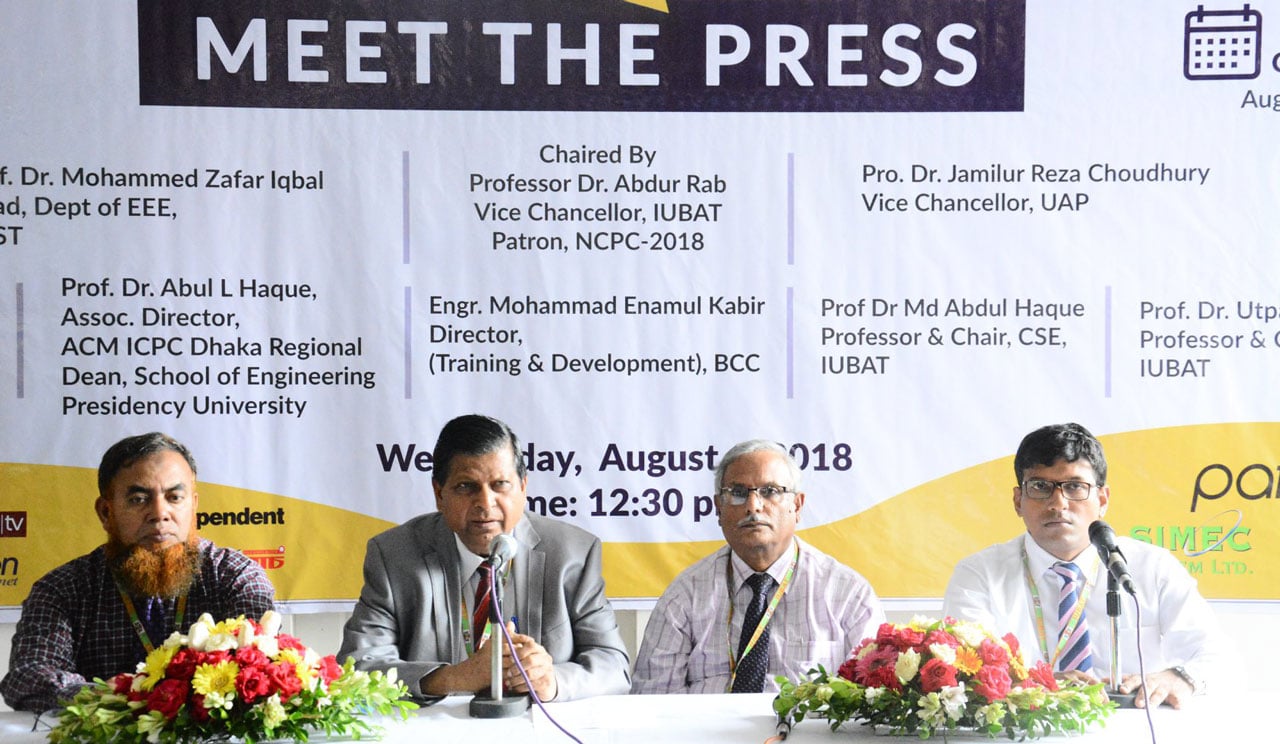 The Department of Computer Science and Engineering of International University of Business Agriculture and Technology (IUBAT) hosted the National Collegiate Programming Contest (NCPC) "IUBAT NCPC-2018" in association with the ICT Division of Ministry of Posts, Telecommunications and Information Technology on August 3-4, 2018, at its beautiful campus located at 4 Embankment Drive Road, Sector 10, Uttara, Dhaka.
Prior to the contest, a press conference was held on August 1, 2018, at IUBAT campus for discussing the upcoming NCPC – 2018. The event was attended by the Vice-Chancellor of IUBAT Prof Dr Abdur Rab, the Dean of College of Engineering and Technology Prof Dr Monirul Islam, the chair of CSE department Prof Dr Md Abdul Haque and the coordinator of CSE department Prof Dr Utpal Kanti Das. About 30 members of print and electronic media were present at the press conference.
The main contest was held from 9 am to 2 pm on August 4. All 149 registered teams participated in this competition. The prize giving and closing ceremony started at 4:30 pm with a welcoming address by the Dean of College of Engineering and Technology of IUBAT Prof Dr Monirul Islam. It was followed by speeches of Mr Ahmed Fahad, Vice-President of Pathao Ltd.; Prof Dr Abul L Haque; Professor Dr Phalguni Gupata, the Chief Guest and Professor Dr Mohammad Kaykobad. Mr Hasnain Heickal spoke on behalf of the judges of the programming contest. The Vice-Chancellor of IUBAT Prof Dr Abdur Rab made the closing remarks.
The members of the media were informed that the NCPC was the most prestigious national programming contest which is being organized regularly in the country since 1998. It is a platform that plays a vital role in developing team spirit and enhancing programming competencies of our students in a competitive environment. This forum also acts as a springboard for our students to participate in ACM ICPC regional and World Final competitions. They were also told that 149 teams, each consisting of three members, from 73 public and private universities, two colleges and one polytechnic would participate in the NCPC – 2018. Among them, there would be three female teams.
The inaugural ceremony was held at 3:30 pm on August 3, 2018. The Secretary of ICT Division Ms Zuena Aziz was the Chief Guest, while the Vice-Chancellor of IUBAT Professor Dr Abdur Rab presided over the occasion. Other guests present were Professor Dr Phalguni Gupta, Regional Contest Director of ACM ICPC India; Professor Dr Mohammad Kaykobad of Bangladesh University of Engineering Technology (BUET) and Chairman, Steering Committee of NCPC-2018 ; Professor Dr Mohammed Zafar Iqbal of Shahjalal University of Science and Technology (spoke on Skype) and member, Advisory Committee of NCPC-2018; Professor Dr Abul L Haque, Director of ACM ICPC Dhaka site and Dean, School of Engineering of Presidency University; Professor Dr Md Abdul Mottalib, Head of Department of CSE, BRAC university;  Mr Zubier Alim, the Chairman of Board of Trustees of IUBAT (represented by Ms Shireen Haque, member IUBAT Board of Trustees) and Engr Mohammad Enamul Kabir, Director (Training & Development) Bangladesh Computer Council. The event started with a welcome address by the Chair of CSE department Professor Dr Md Abdul Haque.
The speakers at the occasion talked about the importance of holding national collegiate programming contests and wished IUBAT NCPC-2018 a great success.
Immediately after the inaugural ceremony, a mock contest was held which was attended by a large number of teams despite the adverse weather and traffic conditions.
The speakers highly appreciated the efforts of IUBAT for arranging the contest in a befitting manner. Professor Kaykobad in his speech said, "By participating in such competitions students can sharpen their programming skills and improve their knowledge in science and technology. This is the only way to achieve the status of middle-income and high-income country." He further mentioned that the NCPC -2018 was the best in all respects he had seen in the last 20 years since it started in 1998. He acknowledged the hard work and dedication of CSE faculty and volunteers in making the event a successful one.