IUBAT launches INSTITUTE OF SDG STUDIES (IISS)
Posted by

Categories

IISS

Date

July 21, 2019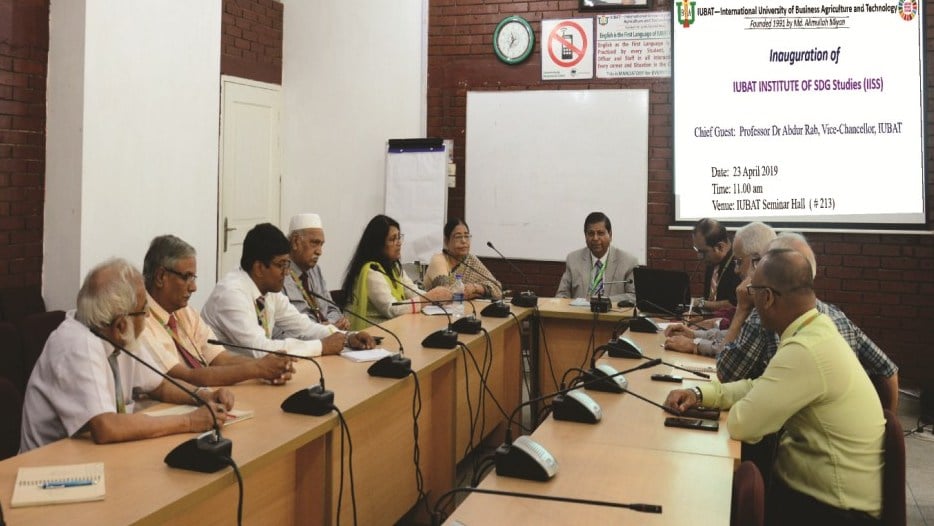 The IUBAT launched the IUBAT Institute of SDG Studies (IISS) in a simple ceremony held on 23 April 2019 in the conference room.Earlier the Syndicate of IUBAT approved the establishment of the Institute in its meeting held on 20 April 2019. The Institute has been set up to develop competent human resources to manage the implementation of the challenging Sustainable Development Goals(SDGs). It will offer training and educational programs, undertake research, provide consultancy services and run model projects for  this purpose.
At the outset, Dr Mujibur Rahman Khan, Professor of College of Agricultural Sciences gave a multimedia presentation on the IISS explaining its goals, objectives, activities and organogram. He mentioned that the Curtin University Sustainable Policy (CUSP) Institute, Perth , West Australia will extend cooperation to IISS .The CUSP has a MoU with GIU (Governance Innovation Unit) of the Prime Minister's Office, GOB on implementation of the SDGs.
Prof Dr Hamida Akhter Begum, Pro VC mentioned in her speech about the contribution of  Founder Vice Chancellor Prof Dr M AlimullahMiyan in sustainable  culture  and termed the establishment of  IISS as the reflection of his thoughts.
Prof Dr Selina Nargis Treasurer, IUBAT mentioned about Knowledge Based Area Development (KBAD) as the brainchild of Prof Miyan for transforming knowledge based society. She also mentioned about the UN Flagship and Good Practice awards received by IUBAT for spreading environmental education, his involvement in initiating Education for Sustaianble Development (ESD) and creating  Regional Center of Expertise (RCE) which is recognised by United Nations Universsity (UNU).
Prof Dr M Shohidullah Miah , Dean College of Agricultural Sciences underscored the need for such an institute and hoped that IISS would establish linkages at national and international levels and fulfil its mandates. Professor Dr Ataur Rahman, Director ,Centre for Global Environmental Culture (CGEC) mentioned about  the ongoing  activities of IUBAT on sustainable works. He hoped that the IISS would be  a good forum to reactivate all the specialized centers of IUBAT and allign these with the SDG goals.
Prof Dr Abdur Rab, the Vice-Chancellor and the Chair of the ceremony  recalled the contribution of his one time colleague Prof Dr Alimullah Miyanto sustainabele developmentby setting up Centre for population management and control and Centre for  diastser managemnt . He believedin the sustainabilty of universities, intiated movement for setting up private universities and founded IUBAT.The Vice Chancellor  declared launchingof IISS  with effect from 23 April 2019and wished its all round success.
The ceremnoy was also attended by the Deans of Colleges, Deprtment Chairs, Program Coordinators, Registrar, Controller and Director IQAC.