Fresher's Day of Department of Economics
Categories

News

Date

December 1, 2021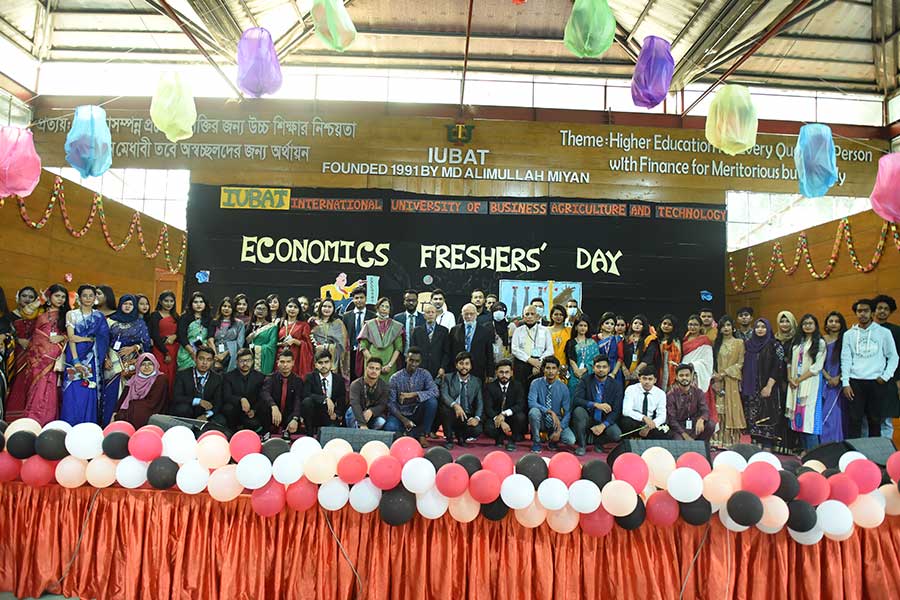 Department of Economics of the College of Arts and Sciences (CAAS), IUBAT organized a program titled " ECO Friendly Zone- Fresher's Day" on Monday, November 22, 2021, at IUBAT Study Arena and Open Auditorium.
Vice-Chancellor, Prof. Dr. Abdur Rab and Pro-Vice-Chancellor, Prof. Dr. Hamida Akhtar Begum ornamented the program with their graceful presence. They welcomed the freshmen and encouraged the IES (IUBAT Economics Society) executives and hoped that through their activities leadership will build up. The welcome speech was delivered by Ms. Tasneem Jahan Tumpa, faculty of the Economics Department. Prof Muhammad Shahjahan, Coordinator of the Department, Prof. Dr. Abul Khair, Dean, College of Arts and Sciences, Mr. AKM Sharfuddin, Director of Alumni Affairs delivered their valuable speech on this occasion.
Dr. Bilkis Raihana, Prof of Economics Department and advisor to the IES (IUBAT Economics Society) introduced executives of newly formed IES. After the introduction, VC and Pro VC distributed the prize among the student performers.  Ms. Sumaiya Nabi Khan, Faculty of the Department, gave the vote of thanks.
After the formal part, a cultural program was arranged by the students of the Economics Department as a source of refreshment to the guests.