IUBAT Ranks 6th in the ASEAN and Asia Pacific Region in AppliedHE Private University Ranking 2023
Categories

News

Date

February 28, 2023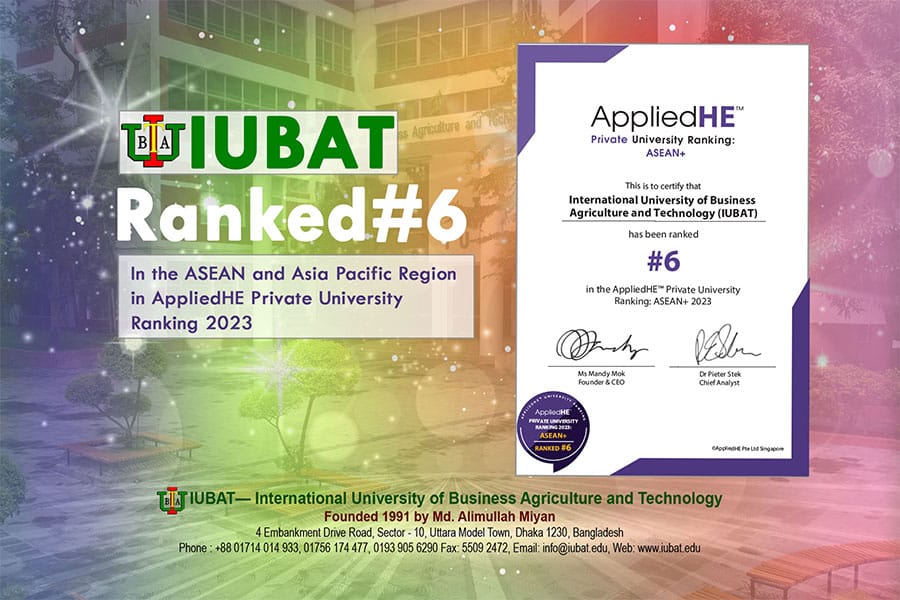 IUBAT has secured an impressive position in the AppliedHE Private University Ranking 2023 in the ASEAN and Asia Pacific regions. Out of numerous private universities in the region, IUBAT has ranked #6 in the overall ranking, which is a remarkable achievement.
AppliedHE was founded in Singapore in January 2020 by veterans from QS Quacquarelli Symonds' (QS Ranking) Asia office, AppliedHETM is a globally oriented higher education evaluation and branding company that is rooted in Asia which aims to positively disrupt the global higher education sector.
IUBAT has performed exceptionally well in all 6 sub-rankings, achieving top positions in several areas.
In the Community Engagement category, IUBAT has ranked 1st among the private universities in the region, which highlights our strong commitment to serving the community through the notion of KBAD.
In the

Teaching and Learning Quality

category,

IUBAT ranked 6th

 among the regional private universities.
In the

Research

category, IUBAT has secured the

6th position

, which indicates our dedication to promoting and producing impactful research outcomes.
Moreover, in the 

Employability

category, IUBAT secured the

13th position

in the region, demonstrating our commitment to producing competent and employable graduates.
In the 

Internationalization

category, IUBAT has secured the

8th position

, which indicates our efforts in providing international exposure to our students and faculty.
Lastly, in the

 

Institutional Reputation

category, IUBAT has

ranked 6th

among private universities in the region. This ranking is a reflection of our institution's reputation and the trust and respect we have earned from our stakeholders.
IUBAT's ranking results reflect the continuous efforts of our faculty, staff, and students in providing quality education, conducting impactful research, and serving the community. We are incredibly proud of our achievements, and we want to thank each one of you for your hard work, dedication, and support.
To see the detailed information, you may click on the following link: https://appliedhe.com/private-university-ranking-asean-2023/