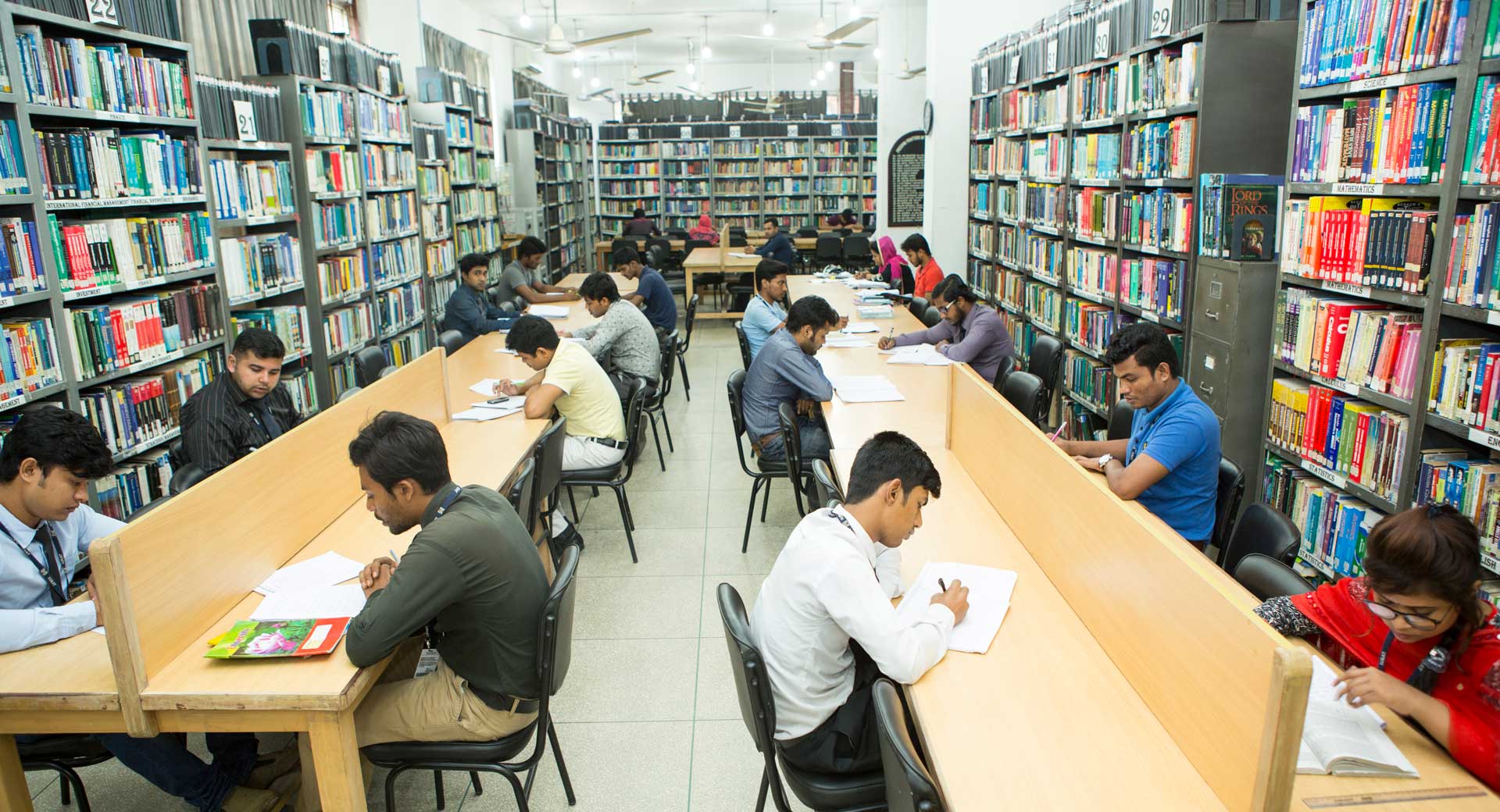 IUBAT Library is the oldest private university library in Bangladesh which is fully automated by KOHA. IUBAT Library collections of print and online resources support the teaching and research activities of the University.  Our printed collections consist of around 33,000 resources with over 11,000 online e-resources available. The Library has an excellent digital library system for e-readers with access to many online periodical databases, which include more than 5000 e-books & 6000 e-journals, e- articles, e- magazines,  like Wiley Online Publisher, Growing Science, DOAB, Jstor and  Research  4  life in IUBAT Online e-resources.
The Library is divided into different sections like: Reading, Reference, Circulation, e-Resource/AVM Section, OPAC – Online Public Access Reading Section, CAS/SDI Section, Researcher Support Center, Photocopy/Printing/Scanning Section, ereader Center and Library Automation Section. IUBAT Library's collection includes books, CDS, DVDs, journals, magazines, practicum reports, IUBAT publications, periodicals, newspapers, manuscripts, films, maps, prints, documents, microform, cassettes, videotapes, Blu-ray Discs, e-books, audio books, databases, and other formats. You can search these collections in Online Access Public Catalogue. Around 7,000Library-Users (researchers, faculty, officers &students)are using the Library with the Barcode printed ID card.
"Be Here" – a virtual reality experience of IUBAT Library Lab
What's it like to be a IUBAT undergraduate or graduate student? Students chart their own paths of discovery, learning and growth, and each journey is as unique as the individual. Experience the stories of five IUBAT students in immersive 360° view.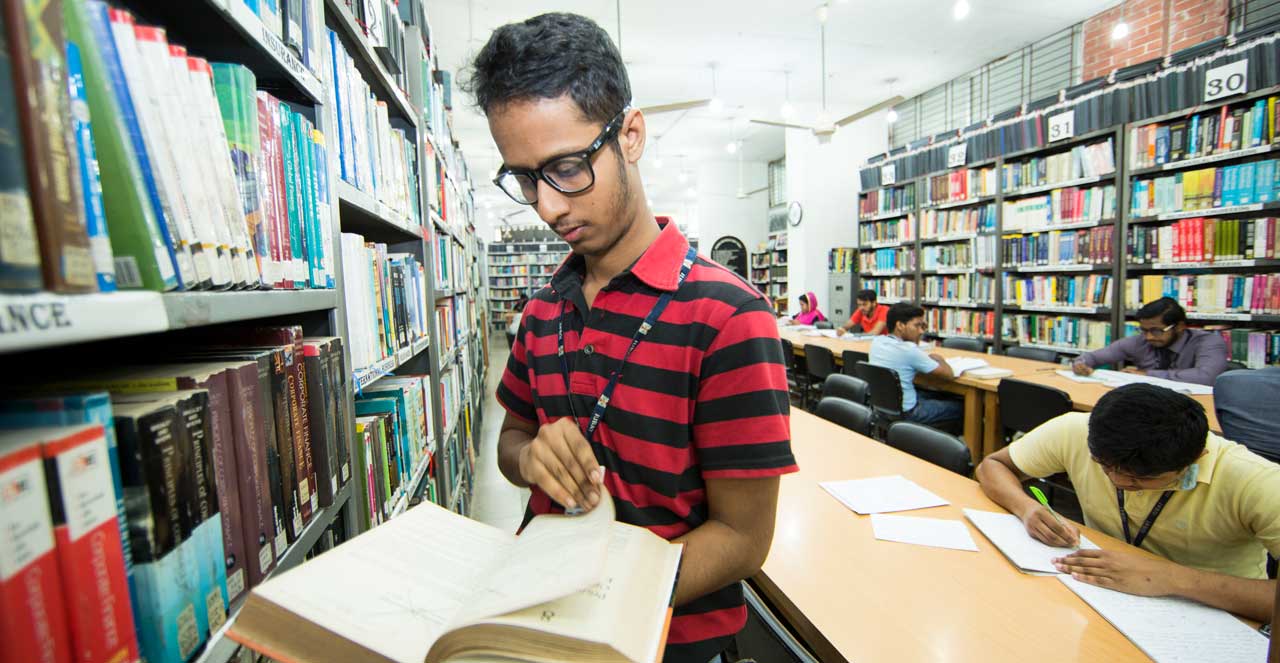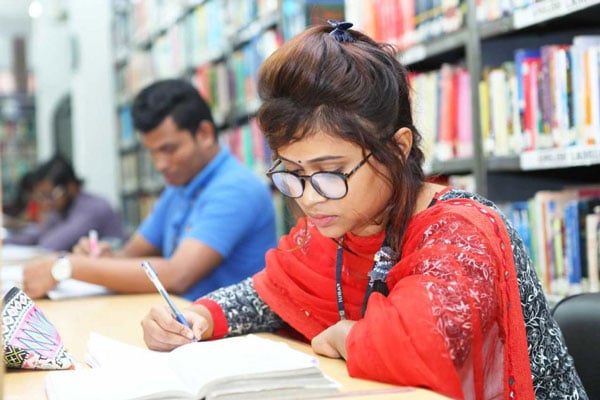 Ground Floor
(Room No. 109) of IUBAT main building, IUBAT, Uttara-10, Dhaka-1230, Bangladesh. With Sections (Circulation Desk, Reference Section, Reading Section, Automation Section, AVM Section, ereader Section).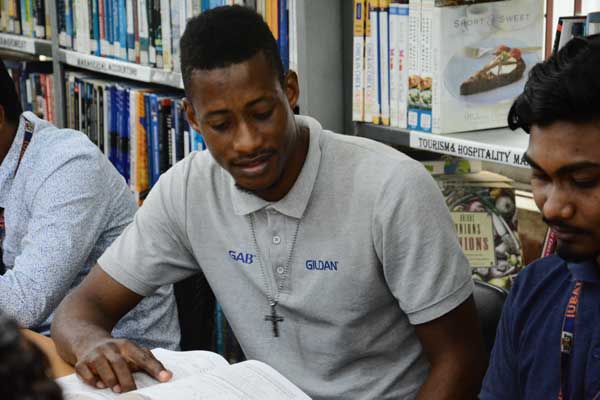 Dress & Behavior Code
Every student maintain IUBAT dress, behavior code, English communication code and Printed Barcode ID card to enter and use IUBAT Library.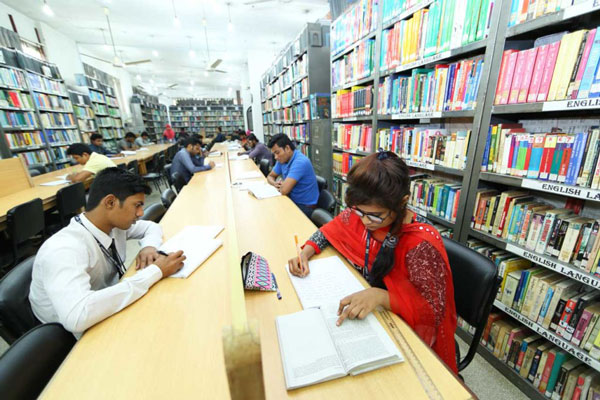 Library Hours
Sunday to Saturday 8.30 am to 8.00 pm, IUBAT Holidays: Closed
Books
There are 22,000 books in the Library (Text & Reference)..
Reference
Magazine, Journals, Periodicals, newsletters: Students can read also Magazine, Journals, and Periodicals inside the library.
CDs/DVDs
There are 1500 CDs/DVDs in the Library, Books CD & Non-Book CD are available inside the Library. Userscan borrow these.
E-books
IUBAT continue to expand access to online content including e-books. E-book content in IUBAT Online e-resourcesis only available to IUBAT researchers, faculty, students and officers/staff.
e-Journals/e-magazine/e-articles
User can search/ read/ download their eJournals from different online publishers in IUBAT Online e-resources
Special Collections

IUBAT Library has added a special corner. That is "Freedom is life." Here readers canread books on our Liberation War in 1971. IUBAT Library has also auto-biography collections.
Circulation Service:IUBAT Library collection can include books, periodicals, newspapers, manuscripts, films, maps, prints, documents, microform, CDs, cassettes, videotapes, DVDs, Blu-ray Discs, e-books, audio books, databases, and other formats. Books and CDs/DVDs can be borrowed, renewed & held by the Library
 

User's

Types & Checkouts Allowed
Loan period

( Days)

Fine Amount

(Par Week)

 

Renew/Hold

 

Books
AVM
Books
AVM
Books/ AVM
Board Members
10
5
120
10
30Tk
1 time
Teachers
10
5
120
7
30Tk
1 time
Officers/Staffs
5
5
7
3
30Tk
1 time
Students
2
2
7
3
30Tk
1 time
If Library resources are lost by the borrower, they must be replaced by a new copy of the book(s). Book(s) of one author, title and edition cannot be replaced by a book(s) of another author and title. For lost books, the borrower will be bound to pay double the price of the book as a fine to the Library. For circulation help, contactMahfojur Rahman, Library Assistant, MSS, BA, DLIS ,Cont: mail: mahfojur@iubat.edu, Phone: 55091801, Ex: 116, Room 109
Reference Service
Some books and materials such as dictionaries, encyclopedias, handbooks, journals, magazines, periodicals, newsletters, etc. can only be used inside the Library and, therefore, one can never remove such books from the reading area.Users need to learn to use these books to fill in the gaps in information required for his/her class preparation and subject papers.
E-reader Section
There are some computers for users inside IUBAT Library. Enriched by eresources on the computer and users can download and read from different web publishers.
AVM Service
CDs/DVDs are available in the Library, text/reference books, Pdf format, videos, audios, graphics, maps, including CDs/DVDs. Users can borrow all these.
CAS/SDI Service
Current awareness service and selected dissemination of information service are provided here.
Photocopy & Printing Service:
You can print, photocopy, scan and laminate a document, parts of books, pictures and graphs from USB flash drives, CD, SD cards, email and websites.
Researcher Support
IUBAT Library Search, Download, find out, Purchase an Article/Articles, Journals/ejourlan, Magazine/emagazine, for research support & send through mail to researcher.